== > Voor dit bericht in het Nederlands scrol naar beneden <==
ARISS Europe and ARISS USA teams plan to perform special SSTV Experiments using a new SSTV digital coding scheme. The first experiment in the series will utilize ARISS approved ground stations in Europe that will transmit these digital SSTV signals. These will be available for all in the ISS footprint when SSTV transmissions occur.
We kindly request that the amateur radio community refrain from the use of the voice repeater thin this ARISS-SSTV experiment on 20th of February 2022 over Europe.
The first SSTV experiment is planned for 20 February 2022 between 05:12 UTC and 11:51 UTC for five ISS passes over Europe. Please be aware that this event depends on ARISS IORS radio availabilities and ISS crew support, so last-minute changes may occur.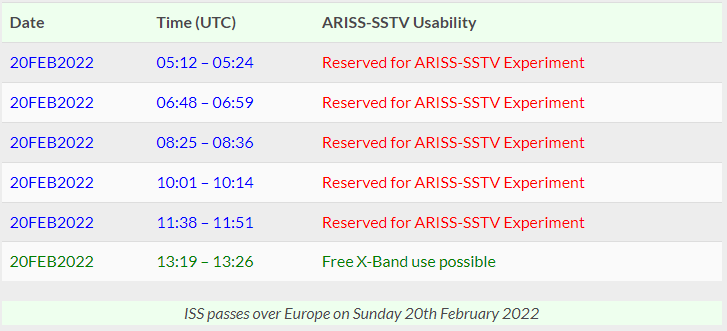 The used modulation is MSK w/o error correction. For the decoding of the 320 x 240 px image, the software KG-STV is required.
On this page you will find an prepared kgst_ISS.zip file to use for this ARISS-SSTV experiment.
The crossband repeater operates on a downlink of 437.800 MHz. Each transmission sequence will consist of 1:40 minute transmission, followed by 1:20 minute pause and will be repeated several times within an ISS pass over Europe.

The purpose of these experiments is to optimize future transmissions of SSTV images from the ISS and to investigate alternative transmission methods.
ARISS-SSTV Upload page:
All members of the ham radio community youth and the public are invited to receive and decode these special SSTV signals. Received SSTV images can be reported to the ARISS workgroup using the ARISS-SSTV Experiment Uploadpage.
ARISS-SSTV Experiment (dutch language)
ARISS Europa en ARISS USA werkgroepen hebben een speciaal SSTV experiment geplanned om nieuwe digitale SSTV signalen te gaan testen. Het eerste experiment in de serie's die gaan komen is een test met de Europese grondstations welke de digitale SSTV signalen gaan versturen. Vervolgens zijn deze direct beschikbaar in het bestrijkingsgebied wanneer het ISS ons land passeerd.

Het eerste experiment is geplanned op 20 Februari 2022 tussen 05:12 UTC en 11:51 UTC voor 5 vluchten over Europa.
Let op dat het evenement afhankelijk is van de ARISS IORS radio beschikbaarheid en ISS bemanning, dat kan inhouden dat er op het laatste moment aanpassingen gemaakt kunnen worden.

Note: Zie het werkschema in het engels deel van dit schrijven.

We gaan het experiement doen met behul van de Japanse software
KG-STV. Zie de afdruk hierna.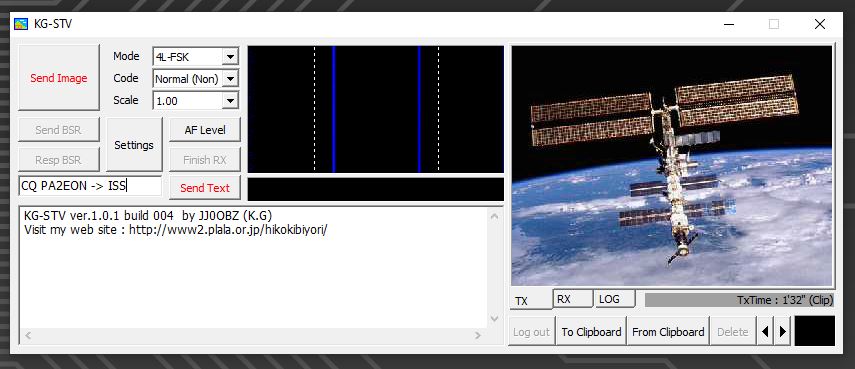 Voor het experiment is een zip file voorbereidt met de juiste waarden en instellingen volg de download link (prepared_KG_STV) op deze site.
De signalen zullen verzonden worden via de crossband repeater met de downlink op 437.800 MHz. De doorkomst van de signalen zullen 1:40 minuten lang zijn met een stilte periode van 1:20 minuten.
Note: Zie uitzendschema in engels deel van dit bericht.

De ARISS-SSTV upload pagina:
We nodigen de radioamateurs en luisteraars die deelnemen aan dit experiment de resultaten van de ontvangst te uploaden op onze gezamelijke ARISS_SSTV Experiment pagina.